Funded with support of a grant from The Commonwealth Fund, a biweekly health care article is provided to Nevada Press Associaition member newspapers at no cost through the Nebraska Press Association Foundation.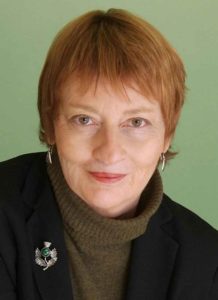 The goal is to provide unbiased, factual stories that readers can use, to help communities address important health care issues. These columns are now in their fifth year and are published in community newspapers across the country. Here's an article about the series.
It is written by Trudy Lieberman, a journalist for more than 40 years, and the past president of the Association of Health Care Journalists in the U.S. and an adjunct associate professor of public health at the CUNY School of Public Health.
She is a long time contributor to the Columbia Journalism Review and blogs for its website, CJR.org, about media coverage of healthcare, Social Security and retirement. She was a fellow at the Center for Advancing Health and regularly contributed to the Prepared Patient blog. She is a contributor to HealthNewsReview. She has had a long career at Consumer Reports specializing in insurance, health care, health care financing and long-term care.
Here are recent columns:
Stalemate in D.C. Leaves Health Insurance in Limbo
ThinkingAboutHealthColumn-WEEK42
U.S. Healthcare Ranked Lower Than In Most Developed Nations
ThinkingAboutHealthColumn-WEEK41
Rural People Will Have Fewer Insurance Choices Next Year
ThinkngAboutHealthColumn-WEEK40
Patient-Centered Care Shouldn't Be Just a Marketing Slogan
ThinkingAboutHealthColumn-WEEK39
Elderly May See Drastic Cuts in Medicaid, Medicare Services
ThinkingAboutHealthColumn-WEEK38
Crowd-sourcing May Bring Transparency to Medical Charges
ThinkingAboutHealthColumn-WEEK37
Government Proposes Cutting Support for Meals on Wheels
Healthcare Industry Fights Revealing Prices for Services
'Repeal and Replace' Fails; Now Obamacare Needs Fixing
ThinkingAboutHealthColumn-WEEK34
How Changes in the Affordable Care Act Could Affect You
ThinkingAboutHealthColumn-WEEK33
Readers Ask for Clarifications About Medicare
ThinkingAboutHealthColumn-WEEK32
Don't Rely on Pharmacies to Catch Drug Interactions
ThinkingAboutHealthColumn-WEEK31
Major Changes May Be Coming to Medicare
ThinkingAboutHealthColumn-WEEK30
Hospitals Are Penalized for Harming Patients
ThinkingAboutHealthColumn-WEEK29
Changing Obamacare Likely To Mean Higher Costs, Less Coverage – or Both
ThinkingAboutHealthColumn-WEEK28
Newly Passed 21st Century Cures Act Is No Panacea
ThinkingAboutHealthColumn-WEEK27
Out-of-Network ER Docs May Charge Big Bucks
thinkingabouthealthcolumn_week26
What You Need To Know About Choosing Health Insurance
thinkingabouthealthcolumn-week25
A promotional ad for the series (insert your own paper's logo):
rural-health-house-ad_2016_year-5