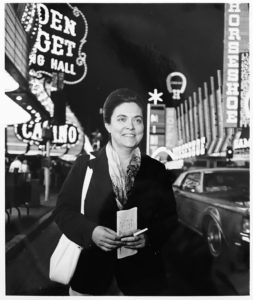 A journalist for 36 years, including 25 years as Las Vegas bureau manager for United Press International, Myram Borders broke news, fought for Nevada's Open Meeting Law and mentored young reporters.
Her efforts to allow cameras in the Nevada courtrooms were a major step forward for print and television journalism in Nevada.
She was a mainstay to keep the Las Vegas Chapter of the Society of Professional alive, serving three terms as president.
In 1967, tipped at 8 p.m, that Elvis was marrying Priscilla Bealieu at the Aladdin Hotel, she went to the hotel and spotted Nevada Supreme Court Justice David Zenoff and asked him flat out if he was there to officiate. He knew better than to lie to Myram and confirmed it. The wedding occurred at 1 a.m. and Myram was the only reporter there, the first to break the story, another in a long line of her scoops.
"I grew up with Las Vegas," Myram said on a PBS documentary called "Makers," where she was profiled as a journalist.
1954 graduate of Las Vegas High
She moved there from Kentucky at age 4 in 1940. The town was about 8,000 people. She went to the Fifth Street School and graduated in the class of '54 from Las Vegas High School.
Graduating from the University of Nevada, Reno in 1958, she immediately entered journalism full time working for UPI and later for the Reno Gazette-Journal before returning to the struggling UPI.
After she retired from journalism in 1990, Gov. Bob Miller appointed her as commissioner of Consumer Affairs. Not surprisingly, the office that had operated under the radar nabbed media attention that helped consumers and hurt fraudsters.
In 1992, she became head of the Las Vegas News Bureau, a job she held for a decade before her final retirement in 2002. Again, her news instincts kicked in and it was her idea to preserve the priceless photos by putting them in a digital form, protecting decades of photographic history from deterioration.
Journalists read Myram's stories to learn how to write better. Whether she was writing about the mob, gaming or nuclear energy, she was direct, accurate and fast. The competition between The Associated Press and UPI was ferocious.
Sometimes luck played a role in her scoops. She was driving home from work along Sahara Avenue when she heard an explosion and drove straight toward it. Mob associate Frank Rosenthal was standing next to his car. He'd just left Tony Roma's restaurant.
In 1998, she wrote, he told her, "Somebody's trying to kill me. I was set up."
When she asked, "Who is trying to kill you, who set you up?" he didn't tell her. Nor did he tell law enforcement.
She was honored by UNR as a Distinguished Alumni from the Reynolds School of Journalism in 2016.
— Jane Ann Morrison