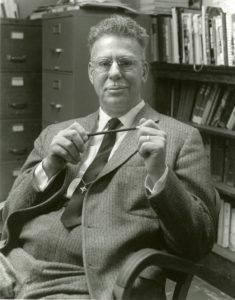 A.L. Higginbotham taught journalism at the University of Nevada for 43 years and, in many ways, can be considered a founder of the Nevada Press Association and this Nevada Newspaper Hall of Fame.
In 1924, a group of Nevada editors met in Austin and then, three months later, at the university in Reno with Higgonbotham to establish the Nevada Press Association as we know it today.
"Much of the credit for the association's longevity goes to University of Nevada journalism Professor Alfred Higginbotham, affectionately known as 'Higgy,'" former NPA director Ken Lauer wrote. "The Nevada Press Association, one member recalled, was 'Higgy's baby' from its early years until 1967 when illness forced him to quit the association's caretaker."
Also in the 1920s, Higginbotham created the Silver Makeup Rule Award to recognize Nevada newspaper people for their longtime service to the industry and their communities. In 1948, the university and the Press Association created a Hall of Fame, housed at the university. Mark Twain, Dan DeQuille and Samuel P. Davis were the initial inductees. The next year, three more were added.
But the Hall of Fame lapsed for the next 49 years, until it was resurrected by the Press Association in 1998. That September, the 34 people who had been Silver Makeup Rule honorees were added to the Nevada Newspaper Hall of Fame, and the tradition continues each year.
Several of his students — Bryn Armstrong, Paul Leonard, John Sanford, Chris Sheerin and Warren Lerude among them — are members of the Hall of Fame.
In addition to his role in teaching generations of Nevada journalism students, Higginbotham was a nationally recognized leader in the field and wrote numerous articles for professional and academic publications.