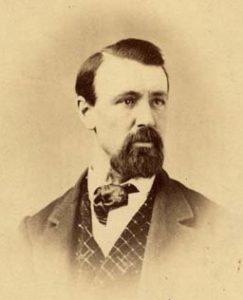 Alfred Doten moved to Nevada in 1863 to participate in the silver boom but soon began work as a reporter on the Como Sentinel, Virginia Daily Union, Virginia City Territorial Enterprise, and Gold Hill Daily News, which he bought in 1872 and guided to a legacy as one of the leading newspapers of the Comstock.
In addition to his journalistic efforts, Doten is best known for his exhaustive private diaries, which he began writing when he boarded a ship to California in 1849 and continued until the last day of his life in 1903.
Upon his death, the 79 leather-bound volumes of his diaries were moved from one family attic to another until the University of Nevada acquired them in 1961. Author Walter Van Tilburg Clark spent years editing the manuscripts and, in 1973, published them in three volumes. They provided an unprecedented look at the daily life of the Comstock era and its cast of historical Nevada characters.
In a recently completed project, The Journals of Alf Doten 1849-1903 have been made available for online reading and search by the University of Nevada, Reno.
Doten wrote news stories, editorials and theater reviews, as well as short stories and essays on Nevada journalism. Ultimately, however, Doten went into debt and lost the News, then moved to Austin to edit the Reese River Reveille. An addiction to alcohol cost him his career and family, and he died alone in Carson City.