We're looking forward to hosting 'Iconic Nevada,' an art show by Erik Holland, with receptions Feb. 4 and 8 in the Rinckel Mansion, which is also home to the Nevada Press Association here in Carson City.
Erik is a plein air artist, meaning he stands outside and paints, and most of his subjects are the historic buildings and dramatic scenery of Nevada. Here's his Facebook page.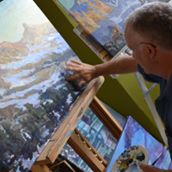 I recently saw a show of his work at Maynard Station in Gold Hill, and I asked Robin Cobbey, who had organized it, if perhaps she would like to do something similar at the Rinckel Mansion. Simple as that.
I've known Erik for many years, since my days at the Nevada Appeal when he would send me a batch of cartoons each week for the opinion pages. It was always a treat to open the envelope and see what he had drawn, and always a dilemma to have to narrow the choices to a couple for publication.
His cartoons — you can see them each week now in the Reno News & Review — are indicative of Erik's keen interest in current affairs (he ran for mayor of Reno in 2006), but they're doodles compared with his art. If you have any interest in the places that make Nevada unique, you will appreciate his talent for capturing their essence.
Erik plans to be here during both receptions. If the weather is decent, I'm hoping he will be able to paint the Rinckel Mansion. He said he's done it before, but I haven't seen those pieces.
Anyway, below is the full release with details from Robin. Tell your friends and come by either on Saturday, Feb. 4, when we'll be here during Carson City Downtown Business Association's monthly Wine Walk, or on the evening of Wednesday, Feb. 8, when legislators will be in town.
Iconic Nevada: Plein Air Paintings from Around the State
Show and Sale opens February 4 in Carson City.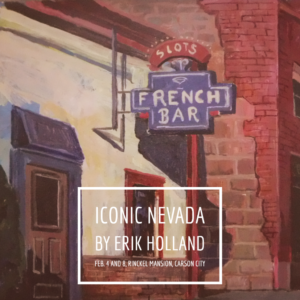 The Nevada Press Association is hosting "Iconic Nevada: Plein Air Paintings from around the State", a show and sale of works by Erik Holland. The show opens Saturday February 4, (1–6 pm) for the monthly Carson City wine walk. A special reception will be held the evening of Wednesday, February 8  (4–8 pm) to welcome the Nevada legislators to the 2017 session.
The show will be open to the public during business hours through February and presents an opportunity to see the Rinckel Mansion, one of the historic buildings in Carson City. "We're excited to to present his  art in this unique setting," said Barry Smith, Executive Director of the Nevada Press Association. "I've known Erik since he drew sketches and cartoons for the Nevada Appeal when I was editor."
Erik has painted in towns, cities and the wide open spaces of Nevada, and this show demonstrates the depth and breadth of his work, as well as the diversity of Nevada landscapes and historic buildings. He makes the heavy old 19th century Nevada structures glow with the inner strength that has allowed them to endure over the years; his landscapes invite the eye and excite the mind.
"When I was a kid growing up in Chicago, I used to stare at the blank spaces in the map," Holland says. "Nevada was one of them, and at 40, my dream to live in and roam the high desert came true. This retrospective depicts much of the landscape and iconic architecture that have thrilled me over the years".
Robin Cobbey, who is helping to organize the show, emphasized: "This is a great opportunity for people to see the exemplary art and meet the artist.  Erik has painted a number of miniatures especially for this show, and there are paintings of local historic buildings as well as landscapes from throughout the state.  Each painting preserves a piece of Nevada in time and space."
Holland studied art at the Art Students League of New York, the Chicago Academy of Fine Art, and the Academy of Art College in San Francisco. He lives and works in his loft in the old Riverside Hotel in downtown Reno. He has taught workshops at St. Mary's Art Center in Virginia City over the past eight years, with successful shows at the Nevada Historical Society, and at galleries in Oregon and California. He is represented by Ryrie's Art and Home, and the Artist's Co-op in Reno.