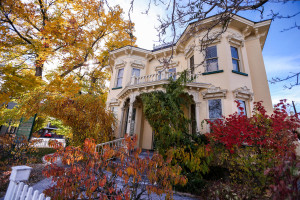 Nestled in the heart of Carson City's historic district, the Rinckel Mansion is considered a masterpiece of architecture.
It was built from 1874-1876 by Mathias Rinckel to placate his wife, who was from Staten Island, N.Y., and hated the dusty frontier of Nevada. Rinckel, who made a fortune in the California gold rush and as a merchant in Virginia City and Carson, employed architect Charles H. Jones of Beaux Arts School of France to design a home "befitting a queen." It remains one of the finest examples of High Victorian Italianate architecture in the American West.
Restored
The mansion at the corner of Curry and King streets was purchased in August 2000 by the Nevada Press Foundation, with part of a $1 million grant from the Donald W. Reynolds Foundation. The building, which had gone through a number of incarnations as restaurants, was remodeled to restore its historic grandeur and to function as office space for the Reynolds Press Center. The mansion is restored and includes a complete working kitchen, full bathroom, two powder rooms, two conference rooms, a grand staircase, courtyard and more.
Available
Mark your place in Nevada history by booking your next special occasion at the grand Rinckel Mansion. The stately mansion is available for: Holiday Parties • Receptions • Meetings • Events • Weddings • Dinners • Anniversaries • Reunions • Recitals • High Tea • More
Please contact the Nevada Press Association at 775-885-0866 or nevadapress@att.net, to learn more.