Wells Drury was known as the fighting editor of the Comstock. On his first day at the Gold Hill News in 1876, his boss asked him, "Can you shoot?"
He wasn't talking about photographs.
Find out what happened that day, as well as other tales of the Nevada Newspaper Hall of Fame, in a talk by Barry Smith, executive director of the Nevada Press Association, during the association's annual convention on Sept. 30 at the Press Center, 102 N. Curry St., in Carson City. The talk will begin at 11 a.m. as part of meetings that day for NPA members. Everyone is welcome, and there is no charge.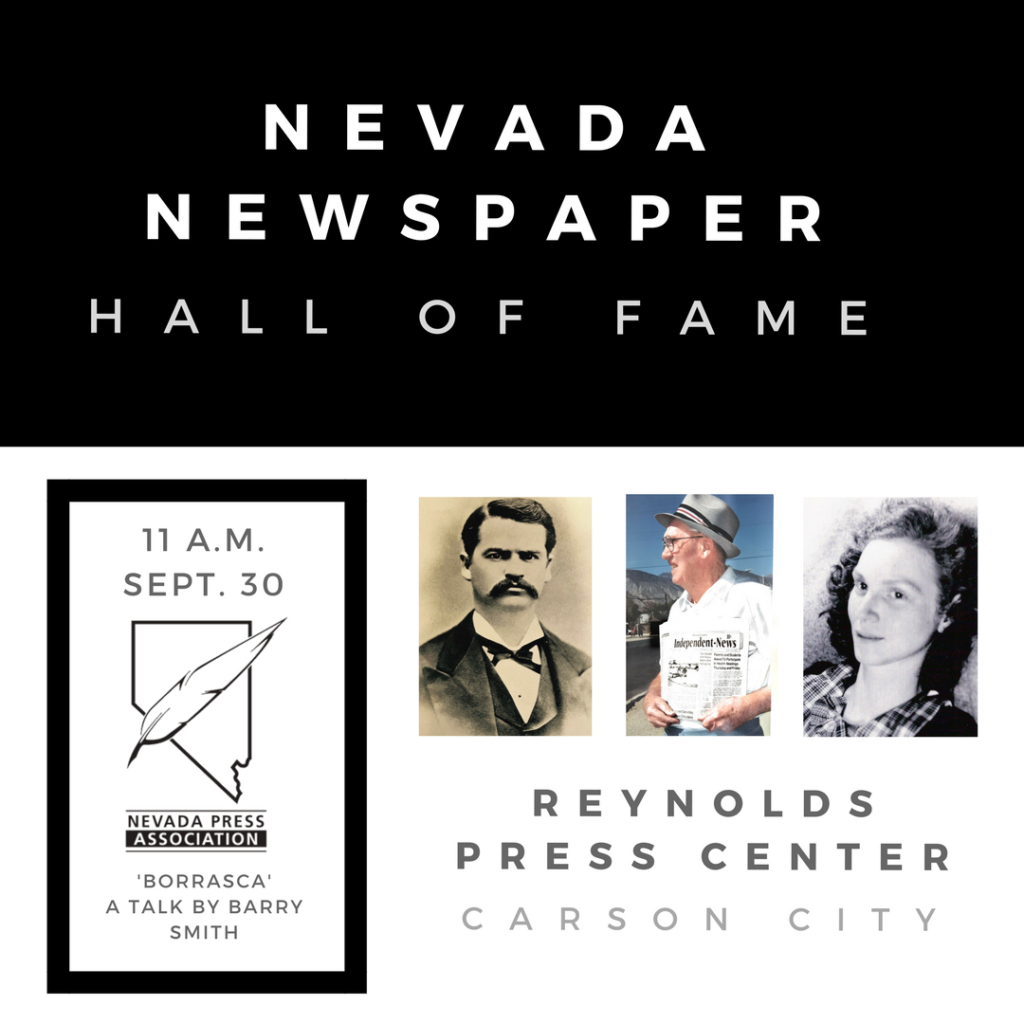 Smith also will be giving the same talk to students at the University of Nevada's Reynolds School of Journalism on Sept. 20 in the Linn Reading Room on campus in Reno. Again, the public is welcome.
In the talk, he focuses on three members of the Hall of Fame — Drury, Jack McCloskey and Jean McElrath — and obstacles they overcame to make their own distinct lasting impressions on journalism in the Silver State.
Drury came to the Comstock a decade after Mark Twain, but it was no less wild a time for the prospectors and miners of Virginia City and Gold Hill.
For McCloskey, whose notoriety emanated from his column called "Jasper" in the Hawthorne newspaper, the Great Depression meant finding a way to survive when all else was failing.
And then there's Jean Sybil McElrath, the Wells Progress columnist who had, according to Robert Laxalt, "the storyteller's true gift of narrative" and showed extraordinary courage in the face of her personal hardships.
Most activities during the convention Sept. 29-30 will take place at the Reynolds Press Center, also known as the Rinckel Mansion and the home of the Nevada Press Association, where the Nevada Newspaper Hall of Fame is on permanent display.
However, on Saturday evening (Sept. 30), events will move to the Carson Nugget for the annual awards banquet and Hall of Fame induction ceremony. There, a traveling exhibit of the Nevada Newspaper Hall of Fame will be on display.
The talk and the traveling exhibit are supported by the Nevada Press Foundation and the John Ben Snow Memorial Trust.
Once the convention is over, the Hall of Fame exhibit will go on tour around Nevada. Member newspapers interested in hosting the display — which consists of five 8-foot banners showing the current 77 members of the Hall of Fame — should contact Smith to arrange to host it at their office, or the local museum or library for up to a month. Smith is also available to deliver his talk while the exhibit is on display.