Rachel Crosby, Las Vegas Review-Journal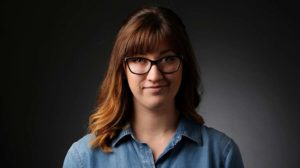 When Rachel Crosby was in high school, she won one of the Las Vegas Review-Journal's high school journalism awards. She still has the plaque – as well as the drive to excel at journalism.
According to Rachel, that award gave her the confidence to pursue journalism at the University of Florida. After internships at the Tampa Bay Times and the Chicago Tribune Rachel has been listening to police scanners or chasing after sirens while most readers of the Review-Journal are getting ready for bed.
Since late 2015, Rachel has distinguished herself covering crime as both a reporter and columnist for the Review-Journal.Rachel told readers about the heart-breaking story of Honesty Townsend, a 3-year-old girl left partially paralyzed when a bullet fired from her mother's gun struck her chin, trachea and spine.
As a columnist, Rachel has told readers how to find which neighborhoods have the most crime, what to do about noisy neighbors and what happened to her when she was confronted by a man with a knife.
A steady diet of writing about bad people doing really bad things can leave a reporter jaded or burned out, but Rachel continues to pursue each story, each assignment with energy and enthusiasm. She has the ability to empathize with crime victims or surviving family members that helps her earn their trust and tell their stories. And she has the writing skill to tell it in a compelling and beguiling manner.
— from the nomination
Judge's comment: Very engaging writing style. Sourcing is comprehensive and well balanced. Impressive young talent across the board.
Sarah Drinkwine, The Record-Courier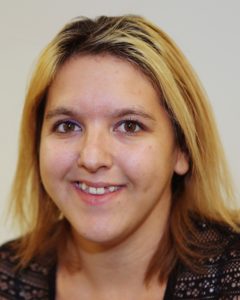 When Sarah Drinkwine interned at The Record-Courier in 2012, it was a very different work environment. Over the intervening four years, The R-C lost one reporter out of four and saw turnover in two other positions.
As a result, her position blended reporting, handling front desk customers, clerking in the newsroom, posting to Facebook, and the dozens of other things that occur during the course of the week.
And that was just the first four months. By October, Sarah and I were the only news side reporters working at The R-C. Not only that but for the entire month of November, the office was closed for renovations and we had to work out of a much smaller shop at the back of the building, and I was dealing with serious health issues that often had me out of the office two days a week.
Through it all, she remained cheerful and hard working, learning journalism by doing it.
She only has a year under her belt so far, but she has taken on much of the responsibility of setting up the paper for the production department to lay out, and done the scores of things that need to be done to get a newspaper out the door, while still finding time to write stories about the people and places that make Carson Valley special.
— from the nomination
Chris Kudialis, The Sunday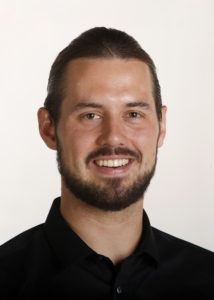 Chris Kudialis was on a date on a Friday night when he got a call about a man waving a gun at pedestrians on the Las Vegas Strip. He dropped everything and rushed to the scene, where he gathered vivid color that set our coverage apart.
He'd been working for the Sun for about a month and obviously wanted to prove himself. But after more than two years in our small but scrappy newsroom, Chris is still attacking it every day like a newbie with something to prove.
He's got genuine hunger for this work and the impact it can make. He is, without a doubt, the hardest – working person on our staff. And the most versatile. Without missing a beat, he produces hard – hitting news for the Sun and thoughtful features for sister magazines The Sunday and Las Vegas Weekly.
He is exceptionally responsive to feedback and always happy to do extra reporting and keep refining. I have seen him grow tremendously in the year I've been able to count him among The Sunday's staff writers. With medical and now recreational marijuana legalized in the state, he has watchdogged like a pro, whether accompanying Nevada lawmakers to Oregon for a pot-industry tour or driving up to the Legislature in Carson City to be in the thick of it as regulations take shape. He has represented our media group in the nation's capital and at a local taco truck, where he spoke perfect Spanish with immigrants who shared on a level most reporters don't inspire. Knowing how much he always has on his plate, I'm stunned by Chris' habit of offering his time to help me fill pages. His work is approachable and full of heart and promise, just like he is. I can't wait to see what he does in the next five years.
— from the nomination
Judge's comment: The most polished of the entries in this category.