I knew Jake Highton mostly by reputation, and what a reputation it was.
The retired journalism professor died Monday at his home of a heart attack, according to this obituary in the Reno Gazette-Journal.
He would try most years to attend the Nevada Press Association convention. We'll find a moment this year to remember him, because many of the people in the room receiving awards that evening learned from his acerbic tongue and demanding nature that there is no substitute for accuracy or truth.
Jake Highton raised the bar. If his students at the University of Nevada, Reno journalism school managed to clear it, well, that was the minimum to be expected. As the obit notes, it was enough to warrant a C grade — average — a metaphor for both the excellence he demanded of journalists and for the inflated grades handed out by other teachers. Here's a great story of a grade he gave the school president.
If his students were to carry the weight of the First Amendment, then they needed strength — not coddling. They'll tell you the same.
I knew Jake Highton from his columns in the Sparks Tribune, and what columns they were.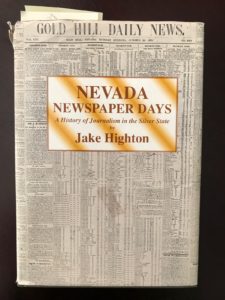 If you're not in the habit of reading the editorial pages of the Sparks Tribune, it has carried on for the past couple of decades a lively, irreverent debate among raging liberals, starch conservatives, wacky intellectuals and working-man prophets. Jake Highton left no doubt where he stood.
I also knew Jake Highton from his 1990 book, "Nevada Newspaper Days, A History of Journalism in the Silver State."
Most of what I know about newspapers in Nevada comes from that book, and I refer to it at least once a week. I'm confident that if it appears in Highton's book, it must be true.
Of course, the former editorial writer couldn't resist offering a few of his own opinions as he was recounting the history of journalism, especially when evaluating the coverage he was seeing in his community at the time.
"The joke among those in the journalistic know is that it would be wonderful if the Gazette-Journal would open a Reno bureau now that it has one in Sparks," he wrote.
And I knew Jake Highton because his respect for the profession, the written word and the importance of an informed citizenry reminded me of the people who shaped my own career.
We were talking just this week — Geoff Dornan, reporter for the Nevada Appeal, and on a separate occasion Ben Botkin, reporter for the Las Vegas Review-Journal — of copy editors and assistant city editors from our past who barked their critiques of our copy across the newsrooms.
Their voices stay with us long after they have gone.