Newspaper Day at the Capital brought perfect spring weather, a long talk with the governor, a chance to act like a fourth-grader again and, finally, the party that threatened to go all night — but didn't.
A small group was led on tours through the Legislative Building and Capitol on March 23 by volunteer guides from the Nevada State Museum. Dan Neverett, Carson City resident and history buff, explained everything from how a bill gets through the Legislature to how the portrait of Abraham Lincoln in the Assembly chambers was discovered to have three bullet holes in it. I knew some of it, but not the whole back story.
Like a fourth-grade field trip (which Brett McGinness of the Reno Gazette-Journal remembered being on), we traipsed around the buildings and saw the original Supreme Court chambers and the Senate, which is now a museum on the second floor of the capitol. The old Assembly chambers have been spruced up, including big-screen TVs, for use as a large meeting room.
Then it was on to the governor's office for a 30-minute talk that turned into an hour and 15 minutes. We expressed our concerns to Gov. Brian Sandoval over a number of bills cutting public notices and then turned to a variety of topics such as health care, the Raiders and opioid abuse.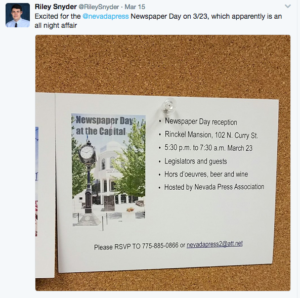 A meeting of the NPA board was followed by a reception at the Press Center (Rinckel Mansion) attended by 30-40 people. The good times did not go on all night, however, as some might have anticipated. (I made a typo on the invitations that said the reception would be 5:30 p.m. to 7:30 a.m. And Riley Snyder couldn't let it pass.)
Thanks to everybody who attended, and my apologies to board members who were kept waiting on the phone for the start of the meeting.