The Las Vegas Review-Journal has fascinated media-watchers for awhile now, since the relatively rapid sales from Stephens Media to New Media Investment Group, which put its operation under Gatehouse, to News + Media Capital Group, which turned out to be the Adelson family.
Now come two stories in quick succession on the newspaper's redesign from Editor & Publisher, including both the print and online editions, and an in-depth look at the changes under Adelson ownership by CNN's State web site.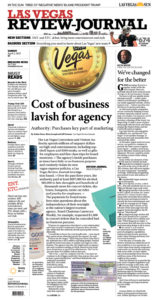 The Editor & Publisher story notes the April redesign was accompanied by a new marketing surge:
"To support the relaunch, the paper embarked on its first multimedia marketing campaign in more than six years. Revolving around an original theme song, "At the Speed of Life," written by Pat Caddick, an award-winning Las Vegas composer, the campaign highlights the Review-Journal's coverage of news, community and life in the city.
"We not only redesigned everything but also saw a chance to rebrand the Review-Journal as a whole. The song has been part of our overall thrust of reintroducing the paper to the community," (editor-in-chief Keith) Moyer said. "These days it's important to get more people thinking about your paper in a different way."
In the CNN story, it's clear that part of the challenge included changing some of the thinking inside the newsroom.
It quotes longtime Las Vegas journalist Jeff German:
Under the two previous ownerships, Stephens Media and GateHouse Media, the paper was constantly cutting back "and you didn't know if you'd be laid off," he says. He wondered if he needed a new game plan. "Now it's like the old days for me. I never thought I'd have this much fun in the journalism business again."
Moyer also ticks off a list of a half-dozen accomplishments, including growth of the newsroom staff and a new investigative team.
The story isn't without its naysayers. But as I've long said, the time to be really worried about your newspaper is if nobody is talking about it at all.