The Nevada Press Association's statewide public notices website is online. Newspapers are posting notices daily, and more are added each week.
The site is a searchable repository for notices published in newspapers around the state. To search for ads by county, newspaper or date on the site, go to the Manual Search and make your selections.
To see similar sites for other states, visit www.publicnoticeads.com. You may also visit nevadapublicnotice.com for information.
Public notices play an important part in the responsibility of government to notify residents and taxpayers of ordinances, zoning changes, spending, foreclosures and more. On this page are listed many of the notices required by Nevada law.
To find out more about the role public notices play in government accountability and accessibility, visit the Public Notice Resource Center.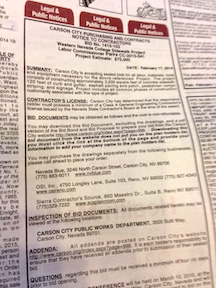 You can receive alerts on public notices in your email. Go to the Smart Search function and subscribe for $99 a year. Specify a search term, such as 'notice to contractors' and you'll be notified any time it appears in a newly published notice. Get leads on contracts to bid, foreclosure properties and more.