The popular two-term Nevada governor known for his no-nonsense style joined the Las Vegas Sun as executive editor and columnist after leaving public office.
In addition to being named a Sun executive, the decorated veteran of the Korean War and former high school teacher also became publisher of the Henderson Home News and Boulder City News.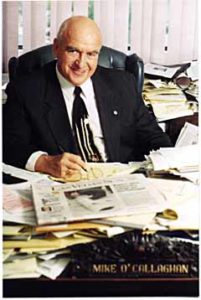 From Ed Koch's "Remembering Mike" comes this passage:
Joe Assalone, a retired postal worker and Korean War veteran, knew O'Callaghan from the numerous AFL-CIO conventions that O'Callaghan attended. Many of the labor awards given out each year are in O'Callaghan's name, Assalone said.
Assalone noted a little-known part of O'Callaghan's life, his quiet service to others that never garnered awards.
"How many (people) knew of his getting up early and serving coffee and doughnuts to the homeless," he said. "A novel the size of "Gone With the Wind" could not give him enough justice and space to tell of his wonderful accomplishments. He never ever let an ego get in his way. He took the time to talk with everybody."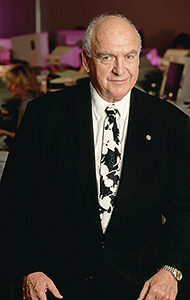 Michael Green, columnist, author and UNLV history professor, wrote about O'Callaghan:
A war hero-turned-schoolteacher-turned government administrator, the hard-driving O'Callaghan pushed the legislature to pass a fair housing law that made racial discrimination in housing illegal, won bigger budgets and services for the mentally and physically challenged, created environmental agencies, streamlined state government and avoided significant tax hikes during a period of economic difficulty. His gaming regulators targeted mobsters who controlled numerous Strip hotels. One of his appointees, Harry Reid, once O'Callaghan's student at Basic High School and later his lieutenant governor, chaired the Gaming Commission at the height of these battles.
Here's a feature story from the Las Vegas Review-Journal's A.D. Hopkins, which notes:
O'Callaghan won a Bronze Star with the "V," denoting valor, for an action on Dec. 24, 1952. But on Feb. 13 he paid a high price for courage. A military document notes, "While his company was being subjected to a barrage of heavy artillery from Chinese Communist forces during a night attack, Sgt. O'Callaghan was informed that men on an out-guard post had been cut off by this enemy action. Immediately … he voluntarily exposed himself to enemy fire, located the men and brought them, together with a wounded member, safely back to the trenches."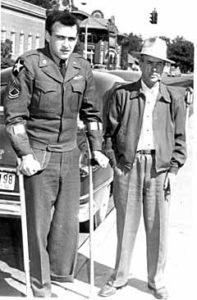 Shortly thereafter, he took a direct hit on the lower leg from an 82 mm mortar round. "It killed my squad leader, a kid named Johnny Estrada," remembered O'Callaghan 46 years later, showing no expression. He rigged a tourniquet out of telephone wire, using a bayonet to twist it tight around his mangled leg.
The subsequent official account relates: "He crawled back to the command post and, from that position, controlled platoon action for the next three and one-half hours, giving orders over the phone. Not until the enemy had withdrawn did he permit himself to be evacuated."