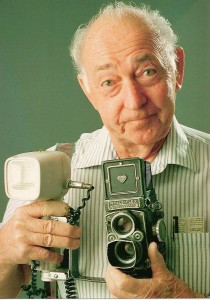 Jones, who began his long career as a photographer for the Las Vegas Sun in the 1950s, photographed a number of famous Las Vegas visitors, including first lady Eleanor Roosevelt, President Kennedy and Elvis Presley. Jones, known for his gentle nature and dedication, created a visual history of Las Vegas that cannot be duplicated.
Here's an excerpt from his 2000 obituary in the Sun:
Twenty years ago Las Vegas Sun photographer Ken Jones sought out the best vantage point from which to shoot the tragic MGM hotel fire.
Although the veteran newsman was a year past the traditional age of retirement, he boarded a helicopter and, high above the worst Strip resort disaster in history, he calmly snapped photos of the blaze that killed 87 and injured hundreds.
But shooting Las Vegas from the air was nothing new to Jones. His 40-year-old aerial photos of vast Las Vegas desert acreage are prized today as "before" pictures used by developers who built large residential developments on those sites and by others fascinated by the very roots of the community.
Kenneth Charles Jones, a prolific photographer who captured famous Las Vegas visitors including first lady Eleanor Roosevelt, President John F. Kennedy and Elvis Presley, died Thursday at Sunrise Hospital and Medical Center. He was 86.
Jones, who was a Sun photographer from Jan. 1, 1954, until his retirement on July 15, 1996, was to have received a pacemaker during an early-morning operation. However, he died in his sleep at 1 a.m. Thursday, a hospital official said.
Services for the Las Vegas resident of 46 years will be at 11 a.m. Monday at Palm Mortuary-Cheyenne, followed by a graveside service at Memory Garden Cemetery. Visitation will be 1-7 p.m. Sunday at Palm Mortuary-Cheyenne.
During his tenure at the Sun, Jones long served as chief photographer and photo editor. After his retirement, he remained a consultant and for a while continued his popular inquiring photographer column "Street Talk."
"Kenny lived a rich and full life and in doing so created a visual history of our city that cannot be duplicated," Sun Editor Brian Greenspun said. "If a picture is worth a thousand words, then Kenny's pictures speak volumes.