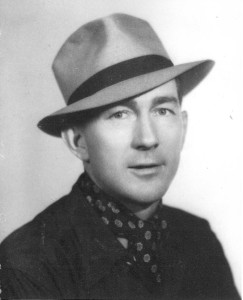 John Cahlan, who started in the newspaper business by hawking copies on street corners as a boy, rose to become editor of two of the state's largest and oldest newspapers.
His earliest renown, however, was as a sportscaster. As a student at the University of Nevada in Reno, he announced the play-by-play of football games through a megaphone while running along the sidelines.
Cahlan was editor of the State Journal Register in Reno before moving to Las Vegas in 1929 to work on the Las Vegas Review, of which his brother, Al, was part owner. When that paper merged with the Las Vegas Journal, he became editor of the Las Vegas Review-Journal, a position he held until 1961.
Both his brother and his wife, Florence Jones, already are members of the Nevada Newspaper Hall of Fame.
Cahlan was born Aug. 25, 1902, and received a bachelor's degree in journalism in 1926 from UNR. At the State Journal, before advancing to news editor and editor, he was a sports editor known for standing on Virginia Street to report updates of World Series games — again, with a megaphone.
"He was a friend of the infamous, the famous and the little people," a pastor, Joel Rivers, recalled at Cahlan's funeral in 1985. "He rubbed shoulders with gangsters and Gable. He felt everybody had something to share."
Cahlan also was instrumental in the formation of the Nevada state archives, persuading the 1965 Legislature to create the repository for historical documents. He received UNLV's Distinguished Nevadan award in 1974.
"Johnny led a rich life, much richer than most of us," recalled a friend, Dr. Guild Gray. "He was the big kid on the block in Reno when we were young, and he turned out to be a truly great Nevadan."