The Nevada Newspaper Hall of Fame is dedicated to men and women who have made a lasting impact on newspapers and journalism in the state over the course of their careers.
Nominations may be made by completing this Hall of Fame form, the form below or by letter, attaching no more than two pages of relevant biographical and background information to make the case for the nominee's inclusion. Nominations generally are sought between June 1 and July 9 each year, but may be submitted any time.
New rules this year: Nominees must be at least two years retired from the newspaper business in order to be eligible, although extenuating circumstances will be considered this year. The board also intends to induct no more than three people in any year, attempting to honor recipients from Northern Nevada when the convention is held in the north and Southern Nevada when we meet in the south. In addition, the board will consider an "old-timer" nominee each year to recognize journalists who have been dead more than 50 years.
Members of the Nevada Newspaper Hall of Fame are selected by the Nevada Press Association's board of directors. Induction ceremonies take place during the NPA's annual awards banquet, usually held in late September.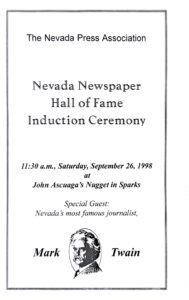 The Hall of Fame itself is located in the NPA's headquarters in the Rinckel Mansion at 102 N. Curry St., Carson City. It is open to visitors during business hours, 8 a.m. to 5 p.m. weekdays.
Nevada's Newspaper Hall of Fame was resurrected in 1998 with the induction of 34 people who had previously been given the NPA's Silver Makeup Rule Award.
The first Hall of Fame was established in 1948 at the University of Nevada in cooperation with the Press Association. The initial inductees were Mark Twain, Dan De Quille and Samuel Davis. They were honored in an exhibit on the Reno campus, but the exhibit closed after a couple of years.
The Silver Makeup Rule Award goes back even further, to its origins in the 1920s with legendary University of Nevada journalism professor Alfred Higginbotham. Similar to the Hall of Fame, it recognized newspaper people for their longtime service to the business and their communities.
Nomination to the Nevada Newspaper Hall of Fame