With Chris Sheerin, he co-owned the Elko Daily Free Press from 1945-1968. The University of Nevada, Reno graduate supervised production at the Elko paper.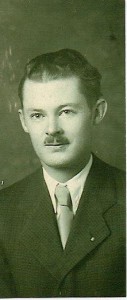 The photo at right is from Northeastern Nevada Museum in Elko and is dated circa 1929.
The photo above is cropped from this picture (below) taken in 1952 with University of Nevada journalism professor A.L. Higgenbotham as Steninger received an award from the Nevada Press Association.