Virginia City, which once had a dozen competing newspapers, will be down to one again with the merger of the Comstock Chronicle and Virginia City News.
The Chronicle, which has been in business 30 years, and the News, started nine years ago, are joining forces with the March 3 edition.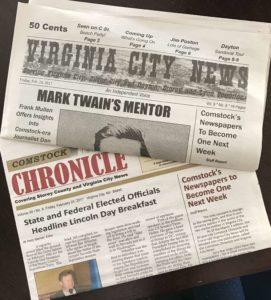 "Very few large cities have two newspapers," notes the announcement that appeared in both papers. "For a small community, it is a luxury that can no longer be supported economically."
Although it's a tourist magnet, Virginia City has only about 800 residents. In its heydays of the Comstock and Big Bonanza eras, it boasted a population closer to 25,000 and a journalism tradition rivaled by few cities anywhere. Mark Twain, Dan DeQuille, Wells Drury and others created a national reputation for the Territorial Enterprise and its many competitors.
Now, Mesquite becomes the smallest city in Nevada with a two-newspaper rivalry.
The Chronicle is owned by Zach Spencer and Elaine Barkdull-Spencer, who have extensive newspaper experience and recently returned to Virginia City from Bullhead City, Arizona, to take over the paper's operation. The VC News is owned by Carl and Karen Woodmansee. She used to work for me as a reporter at the Nevada Appeal before branching out with her own publication. Carl has been in poor health, and Karen notes that was a factor in the merger. "My first responsibility is to take care of Carl," she said.
Although all them have a mix of experience — as does most anybody who ever worked for a weekly newspaper — Elaine's expertise falls mainly in advertising sales, while Karen's is mainly on the editorial side. "The new blended publication will have something for everyone," they promised.
We wish them well on their new venture, and we expect Virginia City residents will be served well by a thriving press.