With just three days to go, the 2017 legislative session has reached the critical stage where most of the work is done, but major pieces of legislation still hang in the balance and the specter of a special session hung over the building on Thursday when a budget deal fell apart.
The capital press corps — a dozen regulars, plus a handful added as Monday's sine die draws closer — has been covering meetings that typically begin at 8 a.m. and continue throughout the day and late into the night. It's an exhausting schedule for everybody.
The structure applied early in the session — a certain rhythm of events, when bills are introduced, scheduled for hearings, set for a vote and moved or killed — falls by the wayside. Rules are suspended, meeting schedules are vague and "legislative time" becomes less a matter of lateness than an impending sense of fate settling over Carson City.
Here, for example, is this afternoon's schedule. It doesn't look busy at all — except for the possibility that any of these committees could meet at any time. It's the uncertainty of the whole thing that drives people a little nutty.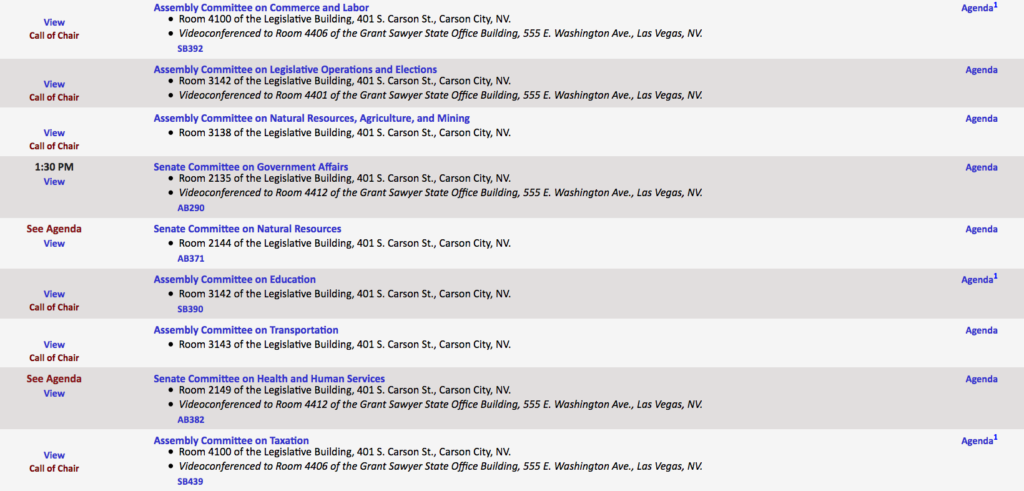 It's also, as Sandra Chereb of the Las Vegas Review-Journal pointed out, not unlike the last 2 minutes of a basketball game, where anything can happen and it seems like it takes forever. Add to that the popular "suspension of the rules" — as the referees decide on the spot that traveling is three-and-a-half steps and an offensive foul can be called by a majority of the caucus behind closed doors.
For the Nevada Press Association, it's the same. We think only two significant bills remain out there awaiting the signature of the governor, at least as I write this.
Remember, though, it was about this point in 2015 that the Legislature rushed through, in less than 24 hours, a "housekeeping" bill that exempted itself wholesale from the state's open-records law, matching its disregard for the open-meeting law.
One bill still waiting a signature is SB384, on confidentiality of information on members of the Public Employees Retirement System. This bill has come full circle through a couple of amendments to make the retirees' names a matter of public record, but not some other information we believe is important, such as their years of service. It's something of a push, if it is signed.
If it isn't signed, court rulings in cases by the Reno Gazette-Journal and a still-undecided one by the Nevada Policy Research Institute will stand. Those rulings have favored openness, yet PERS has continued to resist them.
Another bill we've been following — SB420 — is the New Voices legislation that would help protect First Amendment rights of students and student-publication teachers. It drew opposition from Republican lawmakers, so there remains today some nervousness that Gov. Brian Sandoval, a fellow Republican, might not sign it.
A similar bill in Arizona was vetoed just a week ago, even as Vermont's governor was signing that state's version.
Here's the best advice I can give for staying on top of the news about the Nevada Legislature's headlong stumble toward the end of session: Follow all the capital press corps reporters on Twitter. Read their stories (breaking hourly through much of the day) and, as the kids used to say, keep calm.