Description
Front Page Nevada, our e-book compilation of newspaper stories of historical Nevada events, is also available on Amazon for $9.99. You can get a free sample there, too.
Here's a link to the Amazon bookstore.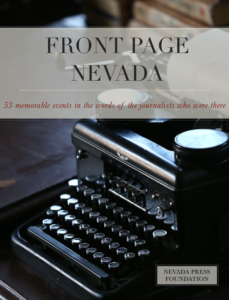 Read about 53 memorable events in the history of the Nevada as told by the reporters and editors who were there. These are the first-day stories, the roughest draft of history, the sometimes breathless accounts of news as it happened.
They were compiled for Nevada's sesquicentennial — the 150th anniversary of its admission into the Union as a state in 1864 — by the Nevada Press Association from the pages of its newspapers over the previous century and a half.
From Gridley's Sack of Flour to the Extraterrestrial Highway, these are stories unique to the Silver State — now in a new format.
The iBooks version will give you photos, videos, links and even a pop quiz (!) at the end of each chapter to test your knowledge. The Amazon and PDF versions lack many of the interactive elements.