by Peter Wagner
I admit I get confused when the conversation turns to the loss of "classified" advertising. Are we talking about those small 30- to 50-word reader ads, or the more serious classified display?
If the discussion is how to resurrect the small reader ads — advertising an apartment for rent or a wedding dress, only worn once, for sale cheap — that revenue is gone, most likely forever. Our Iowa Capital City daily, once heavy with a fat special section of classified ads, is reduced to a single page today in our rural market editions.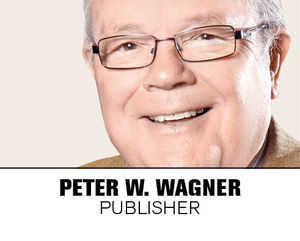 The paid five- or six-line classifieds began disappearing when local, low-wattage radio stations began entering our once exclusive markets 50 years ago. In need of both cheap program material and a way to build listener loyalty, those small market radio stations offered listeners a daily program where they could call in and share what they had for sale or wanted to buy. Why pay the newspaper $5 or more for a classified ad when they could get their message out for free?
Many free circulation publications copied that formula when they began publishing small community or regional editions. It was smart, since classified or liner ads make good fill when the ads on a shopper page didn't fit together tightly. For shopper publications, the free ads served as a form of publication promotion.
Most recently nearby metro television stations have gotten into the game, offering free employment and other classified ads on their website "as a sign of commitment" to the regional communities in their viewing area.
But wait a second. Aren't those the same television stations that have blatantly appropriated traditionally print automotive advertising to their websites? Aren't those the same once-cash-rich TV outlets that have grabbed our once print-committed farm and construction equipment advertising with their website deals? The very same television stations that, because they too are losing local traditional advertising dollars, are currently offering digital copies of national and some local ad inserts on their website?
The answer to print's classified problem is not one thing but several things. It starts with creating confidence in ourselves and our publication and with effective promotion of that positive image.
It continues with a fresh commitment to 1) creating a quality product that exhibits a reason for existing and offers 2) good local content, 3) increased use of process color (when did you buy your last black and white television set), 4) great page design, 5) well-designed ads that produce results, 6) unique, original sales promotions, and 7) a sales department staffed with as many inside specialists as outside sales representatives.
QUALITY OVER REASON
At our publishing company we use the word Quality over the word Reason as our mission statement. Our sales promotion department makes every effort to create quality special sections that attract advertisers and readers alike. Beyond that, our advertising and page designers work overtime to make every ad and every page exciting, informative and effective.
Our 55-year old Golden Shopper, regional N'West Iowa REVIEW and recently purchased Sioux Center Shopper, as well as three "hometown" paid circulation newspapers, succeed because there are no other weekly or daily publications capable of competing with us. No publication will thrive if it isn't unique and valuable in the eyes of potential readers.
GREAT ORIGINAL CONTENT
Original local content is what separates successful community publications from the existing negative perception of many large metro newspapers.
Americans in every size city have learned to tune to CNN and Fox News for breaking national and inter-national updates but need their hometown paper for local news, sports information, heartfelt features and local advertising. Yes, readers still buy a paper as much for the ads as they do the editorial value.
And don't forget the three "C's" of community shopper and newspaper publishing. Local newspapers prove to be more "credible" than most on-line sources and often are the single media capable of building both "consensus" and a sense of "community" in their market.
INCREASED PROCESS COLOR
An average edition of The N'West Iowa REVIEW provides readers 80 or more pages published in five to six sections. As many as half those pages, and half the paid ads, are printed in process color. We're seeing the addition of one or two new customers every month at our family owned White Wolf Web printing plant – some from as far away as 300 miles – because of our ability to print numerous pages of quality process color in a single section. Growing classified advertising, just like its retail and national counterparts, requires the ability to publish full color on any page on demand.
GREAT GRAPHIC PAGE DESIGN
There is much debate today on what format best creates reader interest and loyalty. Some editors believe it is necessary to produce every story short and sweet. "Today's readers don't have the time or interest to read past the first three paragraphs," they say.
Other editors believe today's reader is looking for the full story, with details beyond what is on some blog or radio station website. In either case the presentation of the story is as important as the quality of the reporting and writing. Great newspapers break their reporting into several easy-to-scan parts including the main story, illustrative photos, factoids, quote boxes, sidebars and cut lines skillfully designed to draw the reader in at many points of the skillfully designed presentation.
WELL DESIGNED ADS THAT PRODUCE RESULTS
Too many newspaper ads fall short because they don't motivate any action. Rather than offering an opportunity that requires immediate response the ads simply say nice things about the client's service or way of doing business.
When the advertiser doesn't see immediate customer response they eventually pull their ads or reduce their print budget. A good salesperson encourages the advertiser to list a unique or often purchased item, describe the item's many benefits and offer it at a motivating price. The right message also must be published in a clear, creative, attention -grabbing design.
The same is true of classified employment ads whose purpose is to get readers motivated to apply for the available positions being advertised.
ORIGINAL SALES PROMOTIONS
Classified display advertising, like all newspaper advertising, sells best when the salesperson provides an incentive to buy. At The N'West Iowa REVIEW we offer area manufacturers the opportunity to participate in exceptional Fourth of July and Labor Day tabloids. The first is centered on praising the firm's contributions to the American Dream and the second on the commitment and ability of their workers. Limited-time discount promotions and holiday tabloids reaching potential workers home for a family visit are other ideas.
AN INSIDE / OUTSIDE SALES TEAM
Today's effective print advertising departments are a combination of outside and inside sales professionals. At The N'West REVIEW our sales team is equally divided with the inside team members calling smaller, occasional advertisers, selling our many community support pages, servicing our auto and farm accounts and selling employment classified display ads.
Over the years we've built a weekly call relationship with major employers in the multi-county area. That effort results in 8 to 14 pages of employment ads weekly. Most accounts are called weekly to update their employee needs. Those who are not called normally call us when they need help because of the regular contact and personal service they've experienced in the past. Many of the classified display customers buy a combination of our various print products and our website.
I don't spend much time worrying over the loss of the individual reader word ads. But I am watching our commitment to traditional machinery, auto, auction and employment classified display ads. They will remain part of our paper's franchise only if we continue to put their interests first in every way.