A bill sought by Nevada broadcasters, which would have enabled them to move public notices out of newspapers and onto their websites, died Friday without a vote in the Senate Government Affairs Committee.
SB218 was sponsored by Sen. Aaron Ford, D-Las Vegas, who let the bill expire because it didn't have enough votes in the committee to pass.
It was the third time the Nevada Broadcasters Association has attempted to take notices out of newspapers. Similar bills were introduced in the Assembly in 2013 and 2015 by Assemblywoman Ellen Spiegel on behalf of the broadcasters.
The bill was pitched as a cost-savings to governments — several of which lined up in support of it — but it was deeply flawed. For example, the definition of broadcasters who would be authorized to publish notices included anybody with an FCC license, anywhere in the country. As we noted in our opposition, not only did that mean Las Vegas notices could have been published on a site for an Elko radio station, they also could have been published in Minnesota or Massachusetts.
Mainly, though, the broadcasters presented the bill as an innovative idea: Let's put public notices on the internet.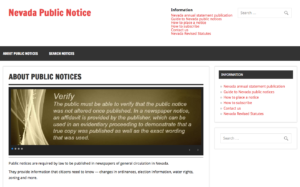 Of course, we were able to point out that Nevada Press Association members have been posting them online voluntarily for at least seven years.
Our lobbying team made compelling arguments for keeping the notices in print, in addition to pointing out the flaws in the bill, and ultimately there was no appetite among committee members to move it forward. Special thanks goes to NPA board member Scott Sibley, who traveled to Carson City several times over the past three weeks to talk to legislators.
One battle won, but the war continues. Other public notices bills are moving forward, threatening to take some particular pieces out of print, although nothing as severe as SB218. And notices remain under the gun in several other states, according to the Public Notice Resource Center.
The bills still alive would allow trans-gender people changing their names to waive notice publication, allow the state's Purchasing Division to advertise for some bids without a print notice, and change how the Treasurer's Office notices its list of unclaimed property.