Here's the best tip I learned from David Guzman's video seminar at the Nevada Press Association convention:
Your Apple earpods, which came with the iPhone and have a built-in microphone on the right-hand wire, function as a microphone when you're shooting video. It's rather obvious, but I never thought about it until David mentioned it.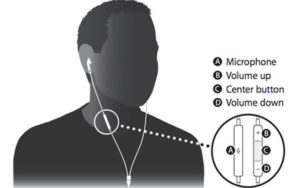 You can see him demonstrating on the short clip below where he's interviewing Tony Erquiaga of the Humboldt Sun. David has Tony hold the microphone about chest-high, but out of sight of the camera.
As David pointed out, it's not like using a clip-on microphone or any kind of high-quality mic to accompany the video, but in a pinch it works better than capturing sound from the phone when shooting somewhere there's likely to be background noise.
Quick and easy
This is, after all, the quick-and-easy method of shooting some video on scene of a breaking news event, where you just want to capture a minute or so to upload to your web site.
David, a deputy photo editor at the Las Vegas Review-Journal, also demonstrated editing techniques using iMovie on the iPhone — how to capture a quick interview, insert some B-roll and text, then upload the video. He made it look easy, and I made the video below entirely on my own phone. Obviously, I could use some practice. But you get the general idea.
He also demonstrated similar editing techniques on Videolicious, an online editor that works on multiple platforms. The biggest problem I've had with either editing program is that the controls are so small for my fingers.
Kevin Cannon, who is photo editor at the Review-Journal, and David have been providing these tutorials to reporters at the paper. I thank them for taking the time to offer their expertise to NPA members.
So here's my first attempt to do everything on the phone: