Brendan Riley, who covered the Nevada Legislature for 19 sessions, has been added to the Nevada Press Association convention schedule to talk about writing his just-published book, "Lower Georgia Street — California's Forgotten Barbary Coast."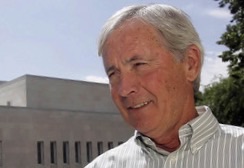 He'll speak at the Press Center, 102 N. Curry St. in Carson City, starting at 1:30 p.m. on Saturday, Sept. 30. Of course, he'll have copies of the book for sale and be willing to autograph them.
I don't know what Brendan is titling his session, but I'm calling it "Because I still love to write …." We talked yesterday about how much fun he had researching, reporting and writing the book — without a daily deadline or an editor hanging over his shoulder — by returning to his hometown of Vallejo and digging up the old stories about its wild heyday.
Here's the book blurb from Arcadia Publishing, where it's available:
"It was a sailor's dream: more than 100 bars, casinos and whorehouses, just a short boat ride across the Napa River that separated the sprawling Mare Island Naval Shipyard from Vallejo, California. Why bother to head for San Francisco, about 25 miles to the south, when you could raise hell in Vallejo's Lower Georgia Street district?"
Brendan is a member of our Nevada Newspaper Hall of Fame after a 39-year career, most of it in Nevada for the Associated Press. His father was managing editor of the Times-Herald, the newspaper in Vallejo, and his mother was a columnist. Now, Brendan is writing a history column for the newspaper.
You can also order the book directly from Brendan at his e-mail address, or search for it on Amazon.
In addition to the his interest in his hometown, where he's been dipping his toes into civic affairs, the story of Vallejo's tawdry ties to Mare Island drew Brendan's interest because he served two years on a U.S. Navy ammunition ship during the Vietnam War.
Join us here on Sept. 30. I'm going to give a talk on the Hall of Fame starting at 11 a.m., then we'll break for lunch in downtown Carson City and return at 1:30 to hear Brendan talk about his book.