Through the Nevada Press Association's 2×2 Display Ad Network, you can place one easy order that puts your 2-column by 2-inch display ad in 21 newspapers for the low price of $690. It's affordable, effective and easy.
Northern Region ($390)
This region has over 328,000 readers. It includes Mineral, Churchill, Lander, Eureka and White Pine counties, the state capital, Reno and Elko. This region has 17 network newspapers.
Southern Region ($490)
This region has more than 530,000 readers. It reaches Esmeralda, Nye, Lincoln and Clark counties. It includes Las Vegas and the surrounding regions. It has a total of 4 network newspapers.
Community Reach ($290)
This specialized advertising section has over 227,000 readers. It reaches all counties of Nevada and includes all participating network newspapers, except Las Vegas Review-Journal and Reno Gazette-Journal. This reach includes 18 network newspapers.
Metro Reach ($490)
This section focuses very specifically. It has a readership of over 644,000. It includes only our two largest members, Las Vegas Review-Journal and Reno Gazette-Journal.
Power Punch – Statewide ($690)
This includes all 21 of our participating network members and has a readership of more than 871,000.
Nationwide
With one call to NPA, you can place your display ad in newspapers throughout the country. Place your ad in any combination of state press networks at the applicable rates.
How does the program work?
Your display ad will be published ONE TIME in each of the network's 22 newspapers during any given week.
CIRCULATION: The statewide network has 21 newspapers in Nevada and the Lake Tahoe region of California with a combined circulation of over 444,000.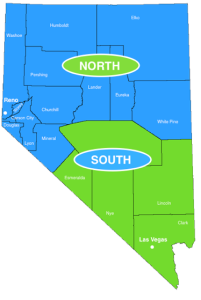 PARTICIPATING NEWSPAPERS (with approximate circulation):
Dailies:
Elko Daily Free Press (7,000) – N, C
Las Vegas Review-Journal (204,000) – S, M
Las Vegas Sun – S, M
Nevada Appeal (Carson City) (13,500) – N, C
Reno Gazette-Journal (54,000) – N, M

Weeklies:
Battle Mountain Bugle (2,000) – N, C
Ely Times (2,500) – N, C
Eureka Sentinel (400) – N, C
The Humboldt Sun (Winnemucca) (4,900)- N, C
Lahontan Valley News (Fallon) (4,000) – N, C
Lincoln County Record (Caliente) (1,800) – S, C
Lovelock Review-Miner (2,000) – N, C
Mineral County Independent-News (Hawthorne) (2,000) – N, C
North Lake Tahoe Bonanza (Incline Village) (4,000) – N, C
Pahrump Valley Times (6,700) – S, C
The Record-Courier (Gardnerville) (7,500) – N, C
Sierra Sun (Truckee, Calif.) (6,200) – N, C
Sparks Tribune (10,000) – N, C
Tahoe Daily Tribune (South Lake Tahoe, Calif.) (10,000) – N, C
Wells Progress (2,700) – N, C
Wendover Times (3,600) – N, C
N=Northern Region Newspaper
S=Southern Region Newspaper
M=Metro Newspaper
C=Community Newspaper
All newspapers are part of the statewide Power Punch coverage
PLACING AN ORDER: Contact your nearest participating newspaper, or the Nevada Press Association at (775) 885-0866 or FAX (775) 885-8233.

DEADLINE AND PAYMENT: Payment and your greyscale PDF ad must be received by the Nevada Press Association by noon Monday for the ad to appear the following week. Address: 102 N. Curry St., Carson City, NV 89703. E-mail: nevadapress2@att.net

AD DESIGN: The camera-ready (greyscale PDF) ad must be 3.25 inches (2 column) wide and 2 inches, 4 inches or 6 inches deep. However, this is a general estimate of size. Please note that different papers require different sizes.

METHOD OF PAYMENT: For orders placed directly with the Nevada Press Association by a private party, credit cards, cashier's checks or money orders. Sorry, no personal checks. Company checks subject to clearing bank prior to ad publication.

PUBLICATION SCHEDULE: Each participating newspaper will publish your 2×2, 2×4 or 2×6 ad one time during the week ordered. The day of publication for newspapers published more than one time a week may vary at the discretion of the newspaper.

LIMIT: 5 ads per week. Ads will be accepted on a first-come, first-served basis. You will be notified if your ad comes in after the first five ads.

PROOF OF PUBLICATION: The Nevada Press Association guarantees that the ads will be distributed to all participating newspapers and monitors newspapers to ensure that the ads are being published. No tearsheets or affidavits of publication are provided.
Here's a brochure (pdf).