Introduction
This book is not primarily designed as a reference for lawyers. It is intended to give you, the reporter and editor, a quick and dirty explanation of how the legal system works, how to deal with it, and what to do when it doesn't foster press freedom.
It is really intended to cover two basics: 1.) ways to get information; and, 2.) ways to avoid lawsuits, or at least have a chance of avoiding either a judgment against you or time in jail.
As much as possible you should be able to grab this book as a first line of defense when you can't reach the Press Association or its attorney.
In some sections you will find sample sheets which you should feel free to copy and use. They vary from a model Freedom of Information Act request to suggested scripts for reading when you're subpoenaed as a witness.
In the long run though, this little book is intended only as the first line of defense. The idea is more to alert you to your rights than to provide a complete course in how to exercise them. If you need help, call the Nevada Press Association (NPA).
About The Author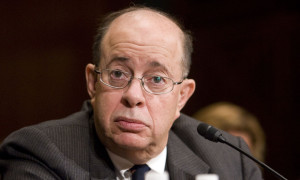 Evan J. Wallach was appointed in 1995 as a judge of the United States Court of International Trade. Before that he was a general litigation partner at Lionel Sawyer & Collins in Las Vegas from 1982-95, and an associate there from 1976-82. He graduated from the University of Arizona in 1973 with a B.A. (honors) in journalism. He holds law degrees from the University of California at Berkeley (JD. 1976) and Cambridge University (LL.B. (honors) in international law, 1981). He specialized in media law and represented Nevada newspapers, television and radio stations and reporters for twenty years. He was counsel for the Nevada Press Association from 1990-1995. He currently teaches the law of war at Brooklyn Law School and the University of Munster. His web site may be found at www.lawofwar.org. He is a member of the American Law Institute, and an honorary fellow of Hughes Hall College.
Update assistance for this manual was provided by Jordanna L. Solomon, Las Vegas, Nevada.
Dedication
To my wife Dr. Katherine C. Tobin, my parents Albert and Sara Wallach, and my friends Prof. Melvin Eisenberg, Ande Engleman, Robert Faiss, Rodney Jean, David Olive, L.J. O'Neale, Sen. Harry Reid, and Todd Touton, this book is respectfully dedicated. Each taught me something that is reflected in its contents.
Copyright 2008 by Evan J. Wallach
Next page: What lawyers do.