By Jim Stasiowski
Today (meaning whatever day you're reading this) marks the end of my career in newspapers.
I actually retired in 2016, leaving the job of city editor of the Rapid City Journal. I have continued this monthly column, but today's (see above) is my last.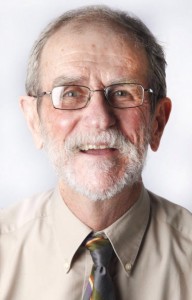 After 26 years of writing the column, and 40-plus years altogether in newspapers, I'm freeing myself of all obligations to the craft I have loved since childhood: writing.
I'll still write; in fact, I obsessively work on what someday may become a full book on grammar and word usage for journalists. Or, I may never finish.
The following scenes from my career may be instructive. Or not:
The doughboys were no boys
Early in 1976, in my first weeks at The Breeze, a 5,000-circulation, five-day daily in Cape Coral, Fla., I was to take a photo of the new officers of the World War I veterans club. (Yes, World War I.) The 12 men, all at least in their mid-70s, showed up in their military uniforms. All were of about the same height, so two six-man ranks of them standing wouldn't work. I said, "OK, six of you have to kneel down in front." For a second, all was silent. Then the club president, a man of modest size but booming voice, said: "I kneel before no man."
A painful lesson
I wasn't much of a photographer, but one time I got lucky. It was a motorcycle crash, and the seriously injured man was lying on the asphalt, being tended to by medics. I managed to get the man in the foreground and his bike tossed on its side to the right of him. Not until I developed the film did I notice, in the background, a group of elementary school pupils, waiting for their school bus, watching the drama unfold. I wonder whether any of them ever bought a motorcycle.
Another Florida land swindle?
I wrote stories questioning the wisdom of Lee County's leasing, for $1 a year, some valuable land to a couple of slick out-of-towners promising to create a national collegiate sports hall of fame in an area of the state that in those days had no four-year college. After the deal fell through, the ringleader of the local effort to bring the hall of fame to the community called to tell me I alone was responsible for the death of his dream.
Testing, one …
When a new editor arrived, he required prospective reporters to take a written test as part of the interview process. A newly hired reporter asked my colleague John Kane if he also had to take a test before being hired. John replied: "Yeah. There was one question: 'Will you work for minimum wage?'"
My favorite two words
After seven years at The Breeze, I wanted to move to a larger newspaper, so I spent months answering want-ads, sending my résumé along with painfully long, overly earnest cover letters. In return, I got only nibbles. Desperate, I answered the "reporter wanted" ad from The Columbian, a 50,000-circulation daily in Vancouver, Wash., by writing a two-word cover letter: "I write." I got the job.
Fast food on the freeway
I'm a lifelong early riser, so I often was in The Columbian newsroom in the very early hours, before anyone else arrived. My favorite overnight story: A semi on Interstate 5 overturned, spilling all of its cargo: live chickens, which ended up racing in every direction on the roadway.
A penmanship slip
One election night, a reporter from The Oregonian, our much-larger rival paper, and I were scribbling in our notebooks while interviewing a winning candidate, an incumbent who easily had overcome a spirited long-shot challenge by a local woman. The winner said the woman had run "an honorable campaign." The story in The Oregonian quoted the winner as saying the woman had run "a horrible campaign."
A painful joke
We organized a softball team and challenged local organizations to games. Tom Vogt, the newsroom wit, dubbed us "The Bad News Bearers." In a game against the local doctors, Tom suffered a fairly serious lower-leg injury. As Tom was lying on the ground, Archie Hamilton, a physician who also was the county coroner, came rushing over to see if he could help. Tom, despite his pain, looked up and said, "Archie, I don't need you yet."
Wake up, Mr. Speaker
The newly elected speaker of the Washington House of Representatives was from Vancouver. He had the authority to appoint a person to a high-paying administrative job in the House. By connecting the dots (in my head), I realized there was one very likely candidate, so I called the new speaker, even though it was before 6 a.m. He was a good-natured fellow, so he wasn't angry that I called so early, but he was amazed that I had figured out his choice for the job.
The tears were mine
I was assigned a story about a bachelor schoolteacher who had adopted a youngster suffering from severe mental and physical problems. When I finished writing, I was sure it was a masterpiece, guaranteed award-winner. But after it ran, no one complimented me. Then an editor-friend, who usually praised my stuff, sent me a note listing all the problems with my story, showing me how I had overwritten to the maximum, straining to squeeze tears from readers. Furious, I went back to the story so I could prove my editor-friend wrong. Damn. He was right.
I wish I had written 'pee'
I wrote a twice-weekly humor column for The Columbian. Here's my best line: The claim by tobacco companies that smoking cigarettes does not cause serious diseases is no more convincing than if the beer brewers of this nation tried to tell me their products don't make me have to urinate.
The saddest funny column
One of the annual features of the column was a contest: Readers submitted their own columns, and the paper published the entry that came closest to my style of humor. In 1985, the joint winners were a married couple, Gerrit and Nellie Van Tol. But Nellie was killed in a traffic accident just before their column was to be published, so we held it. Days later I talked to Gerrit, and he said he was sure Nellie would want the column to run. In a note explaining the sad circumstance, I told readers that despite Nellie's death, it was OK to laugh at her inspired humor.
Round One
In 1989 I left The Columbian to write a novel (never published) and to become a freelance writing coach. (The qualification for being a writing coach: Purchase 500 business cards and place the words "writing coach" under your name.) At one of the first newspapers that hired me to coach, my criticism of two of the reporters infuriated them to the point that they threatened to beat the hell out of me.
Round Two
In 2007, I was hired as the writing coach for The Dolan Company, which published 20-some business, legal and government-affairs newspapers all over the country. When I was assigned to be interim editor of one of the papers, my editing of one reporter's stories so enraged him that he took vacation, telling the publisher he had to get out of the newsroom before he beat the hell out of me.
My comeuppance
I got cocky. At a Dolan legal weekly I was temporarily leading, I tried, through editing sleight-of-hand, to salvage a questionable story. What it really needed was patience — why not wait and run it next week? — and more thorough reporting. Instead, I was sure I had done miracle editing surgery, and I forced it into the paper. Many readers complained vigorously and justifiably. The publisher wrote a Page 1 apology in the next edition, saying the story did not meet the paper's high standards. My embarrassment was a small price to pay for owning up to a mistake and standing up for journalistic integrity.
A hole in his logic
Several Dolan editors would have me edit their writing. When I edit remotely, I write notes inside each piece, and I try to do two things: 1) coach the writer and 2) make my notes fun to read. In one editorial, I noticed that the editor had urged a solution early, then contradicted that solution later in the same piece. Instead of directly pointing out the contradiction, I started my note by describing an experience I once had on the golf course: I was paired with a fellow I had never met. Early in the round, he barely spoke. There were just the two of us, and I didn't want to go 18 holes without conversation, so I practically forced him to interact. In mumbles and sentence fragments, he said he was a former cop, retired on a disability because he had been shot in the head. The head wound meant that sometimes, in forming a thought, he would blurt out the opposite of what he meant. Thus, if he hit a good shot, he would say, "That's sick"; a bad shot, "Perfect." After writing probably 250 words of that anecdote, I added this to the editor: "You're saying here the opposite of what you said above. Have you recently been shot in the head?"
Head for the (Black) Hills
In early 2014, The Dolan Company, beset by financial woes, eliminated my position, so at age 66, unwilling to retire, I spent four months looking for another newsroom job. Bart Pfankuch, then-editor of the Rapid City Journal, hired me to be city editor. I had a few other possibilities, but I chose to work for Bart because in the interview process, he said that he wanted the Journal to be known for its "teaching newsroom."
Of ice and men
One day in early 2015, 100 cattle owned by a Pine Ridge Indian Reservation rancher walked onto the frozen surface of the White Clay Reservoir, plunged through the ice and drowned. A few days later, the rancher, Mike Carlow, and some volunteers braved the ice to try to pull out carcasses. Chris Huber, then-Journal photo editor, and I went to the reservoir to document the attempt. All morning, the men struggled against unbearable conditions, chopping through thick ice, wrapping strong chains around heifers' heads or feet or anything, really, only to have them slip from the chains as they were being pulled to shore. The morning total: One heifer carcass extracted. The cold was so intense that the ink in my pen was frozen, useless. My hands were almost equally useless, but I managed to get in my notebook extremely sketchy pencil scratchings that I later turned into a 32-paragraph story.
To ace the chase
On Friday, April 15, 2016, the Journal had a brief, informal retirement ceremony for me. I told my colleagues that although a person leaving a job is expected to say, "Most of all, I'll miss the people I worked with," I was going against the grain. What I would miss most, I said, was the chase, which I define as the effort of making six, a dozen, even 20 phone calls (or other attempts at communication) to track down a single fact or quotation or other element that marks any story, no matter how big or small, as being mine alone. I know I'm not always the best writer in the newsroom, I told my colleagues, but I always can be the reporter who doesn't give up, no matter the odds against me.
I used the example of a Rapid City power outage. The utility's press release said the outage took place because a Mylar balloon had drifted onto power lines. I thought: The way to make this story mine was to get information about Mylar balloons. I made several calls and was rebuffed; finally, just as the owner of a party-supplies store was heading out for the day, he took my call and gave me Mylar-balloons background that I added to the story.
Did readers care?
Probably not. But I cared. I cared that I had made better what could have been a standard press-release story. That satisfaction — not money, not awards, not praise — was what kept me working for 40 years.
The final thought
Metaphorically, in every community many Mylar balloons take flight every day. Chase 'em.